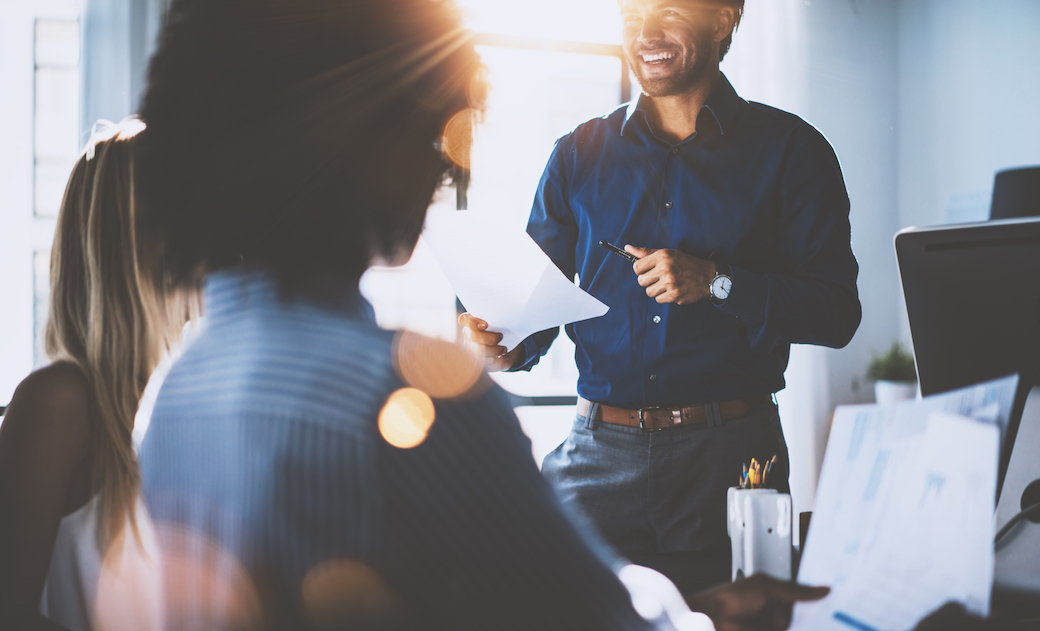 DEFINING ROLES & RESPONSIBILITIES & PROVIDING TRAINING.
Having defined how the organisation will manage its projects, as a set of project management processes, and created the supporting templates, the organisation needs to ensure that it realises the benefits of these valuable assets. Key to this is achieving effective application of the resulting project management framework by the project community.
For this, having defined the processes by role, it is important that project team members are clear about which project role (or roles) they fulfil, and that they become familiar with what is relevant to them, with respect to the framework.
In this blog post I discuss how to define project management roles and responsibilities, alongside the support and training required in order for employees to successfully fulfil their roles.
Key Takeaways:
Ensure that strong active 'ownership' of the framework is put in place, to maintain and evolve it through a continuous improvement mechanism.

Define standard project management roles and responsibilities to ensure clarity is achieved.

Provide appropriate training to the individuals within the project community based on the roles that they fulfil, in both the framework and the underlying principles.
Defining Project Management Roles and
Responsibilities
After the initial creation of the project management framework, it is essential that strong active 'ownership' of it is put in place. In other words, the lifecycle and underlying processes, tools and templates must be cared for by appropriate individuals, within a defined function (or hierarchy of functions) within the business. These individuals are responsible for the maintenance and evolution of the framework, for which there should be a mechanism in place to enable continuous improvement.
Without good 'ownership' there is a high risk that the processes and tools will fall out of line with each other, actual ways of working will deviate from what has been defined and clarity of how projects should be managed will be lost, resulting in a return to 'anarchy' and inefficiency. The effort that was invested to create the framework will have been wasted or will, at least, require a costly re-invigoration exercise once proper ownership has been established.
The indirect roles and responsibilities (those relating to the framework, rather than the projects themselves) should be defined as part of creating a simple governance, assurance and support structure, which I discussed in a later post. For the direct project roles, I propose the following simple responsibilities:
Project Sponsor and Board
Role:
To assure the success of the project and direct decision-making.
Responsibilities:
Assign an appropriately skilled project manager with respect to size and complexity.
Set project objectives (quality, timing, cost and business case) and tolerances.
Assure that the project remains on target to deliver the business case within the agreed tolerances of quality, timing and cost.
Monitor and advise on any outside influences that may affect the business case.
Authorise gate approvals and direct any actions required to improve project performance.
Direct treatment of escalated risks and issues.
Direct a recovery strategy if it becomes an exceptional (poorly performing) project.
Authorise change requests and direct any actions required to improve their effects.
Direct compliance with the defined project management framework.
Note that the Project Sponsor role is sometimes termed Project Executive and may be the chair of a Project Board or Steering Committee, which should include representatives of both delivery and acceptance.
Project Manager
Role:
To ensure that the project produces the required deliverables within the agreed tolerances of time, cost and quality.
Responsibilities:
Compile the requirements of each of the project lifecycle gates and arrange to present them for approval.
Ensure that the project deliverables are defined, with their quality acceptance criteria, and then produced and accepted.
Maintain a realistic and achievable project plan, with specific resources assigned that are not over-allocated, by liaising with Line Managers.
Manage the Team Members on a day-by-day basis to fulfil their responsibilities.
Retain baselines of the plan in line with approved states of the project.
Maintain an estimate of the cost-to-complete that when added to actual-cost-to-date is within the authorised project budget.
Maintain a list of risks to the plan and manage them through appropriate treatment, including planned and tracked mitigation or fallback tasks, where appropriate.
Maintain a list of issues and manage their resolution through appropriately planned and tracked tasks.
Advise the Project Sponsor if the project is forecast to exceed any of its tolerances or if any risks (post-mitigation) or issues are 'red'.
Maintain a list of changes to project scope (quality), cost or timing (schedule), as originally defined in the PID, by obtaining Sponsor agreement that the implications of a chosen option are acceptable.
If some parts of the project are 'sub-contracted' to another party (either internally within or externally to the organisation), as a work package or sub-project, then the managers of these parts will have similar responsibilities to the Project Manager, with differences that should be defined by the organisation. The Work Package Managers (or Sub-Project Managers) will be required to provide periodic updates of progress to the Project Manager, by adhering to a mechanism that should also be defined by the organisation.
Team Member
Role:
To complete project tasks and contribute to the production of deliverables.
Responsibilities:
Complete task assignments within planned timescales and effort.
Produce project deliverables to defined quality acceptance criteria.
Assist Project Managers with identifying risks to project success and with the treatment of risks.
Assist Project Managers with identifying project issues and with cost-effective resolution planning and task completion.
Unless the Project Manager role is very 'hands-off', the individual fulfilling this role will also carry out the role of Team Member on some planned tasks.
Resource Manager
Role:
To ensure that resources of suitable capability are available to projects.
Responsibilities:
Agree allocations of appropriately skilled resources to projects with Project Managers to fit planned schedules.
Assist Project Managers to resolve resource conflicts caused by changes to project schedules.
Review medium and long term resource demand versus capacity to ensure short term resource availability is maintained.
Maintain personal development plans for individuals that include consideration of appropriate project management awareness and capabilities.
This role is sometimes termed Line Manager. It is more usual that the Project Manager manages the Team Members day-by-day than this role to do so. However, if, in fact, the Resource Manager (or Line Manager) has this important responsibility, then the two lists of responsibilities should be adjusted accordingly. It is essential that this is clear, one way or the other.
Providing Appropriate Training
A well designed project management framework will be worthless unless the project community use it. In order to do so, they must be familiar with the elements relating directly to their project roles(s) and have an awareness of the whole framework so that the context of their own role is understood.
The people involved in the design of the framework will, of course, get a head start on understanding it. This can be very useful as, so long as they are well aligned with it, they will naturally 'champion' it and provide important positive communications both ahead of and during rollout.
I strongly recommended that the core team involved in the design of the framework are selected carefully and are not simply included because they happen to have some spare time. It is important that the people involved are good examples of each of the roles and have some understanding of project management principles.
It is then beneficial if these same people are involved with delivering the training (immediately ahead of rolling the framework out to the various areas of the business) because it ensures their alignment to it. This gives it more impact when they present it to their peers. The training should be planned within a rollout strategy to the various areas of the business, after completing a pilot exercise. The intention of this is to test the framework by involving a small group of willing volunteers, who will capture issues or concerns which can be considered and may lead to modifications to the framework before it is rolled out.
The most efficient way to deliver training is by using a seminar format, where the trainees are simply presented with the details of the framework. In this way, the training can be provided to large numbers of trainees, but there is unlikely to be much useful interaction which can result in less 'buy in' from them. This might, however, be worth considering for providing overview awareness training to large numbers.
For some roles, there will be benefits from providing training in smaller groups, where the trainees will feel they have an opportunity to voice any issues or concerns they might envisage. These should be considered as part of the ongoing improvement mechanism that will take the framework forwards. All training should be introduced with some materials explaining the benefits of reliable project delivery that the framework will help to achieve, along with some content explaining what benefits the specific trainees will gain from it.
As well as training in the organisation's project management framework, the project community will benefit from a good foundation of knowledge in project management principles. This can be achieved either through external training, possibly linked to achievement of qualifications (such as PRINCE2®), or through targeted, bespoke, internal training.
Let's talk
Are you currently building project management capabilities into your team? I'd be happy to discuss your current needs and challenges.
I am conveniently based in Milton Keynes and have a very good track record of implementing simple frameworks (of processes, tools and templates) into small and large businesses throughout the UK, across many industries, which greatly improve value from investments. Get in touch or call me on 07725 950775