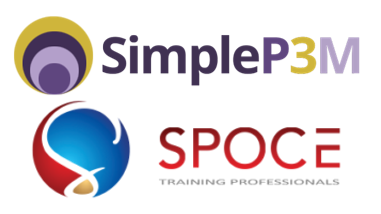 SPOCE and SimpleP3M are pleased to announce an association based on their complimentary services which offers great benefits to customers.
SPOCE has been an Axelos Training Partner (ATP) for many years whilst SimpleP3M has recently become an Axelos Consulting Partner (ACP). Customers will benefit from the association of these two highly professional and experienced parties because:
/ Trained individuals will often find difficulties in applying their newly acquired skills within organisations of low project, programme and portfolio management (P3M) capabilities, which would benefit from the expert pragmatic consultancy services that SimpleP3M can provide.
/ Consulting engagements often discover that organisations will benefit from raising the capabilities of individuals performing P3M roles through the excellent formal training in P3M standards (PRINCE2®, MSP®, MoP®, etc.) that SPOCE can provide.
Why not start with a P3M3® Assessment? This assessment can be conducted within a very short timeframe, from which you will gain a measure and understanding of your organisation's current capabilities in project, programme and portfolio management (the three Ps).
Find out more about assessments here